Laura Londra, M.D.
Medical Experience
Dr. Londra comes to Ohio Reproductive Medicine from Johns Hopkins University in Baltimore, Maryland, where she completed a 3-year fellowship in Reproductive Endocrinology and Infertility. At Johns Hopkins, she had the honor of being named the first Edward E. Wallach Fellowship Fund for Research scholar. She is also a member of the Howard A. Kelly Gynecologic and Obstetric Society. Dr. Londra has expertise in all currently available treatments for infertility, including IUI, IVF, ICSI, and PGD. Her clinical research has focused on factors affecting pregnancy outcomes after IVF as well as ethical issues related to reproductive medicine. Her work on these topics has been published in peer-reviewed journals including Fertility and Sterility and Seminars in Fetal and Neonatal Medicine. She plans to continue her research in these areas at Ohio Reproductive Medicine.
Background
Originally from Argentina, Dr. Londra completed medical school, an OB/GYN residency, and a Reproductive Endocrinology fellowship at the University of Buenos Aires and the Institute of Gynecology and Fertility (IFER) in Buenos Aires. Prior to her fellowship at Johns Hopkins, she attended Wayne State University in Detroit, Michigan to complete a residency in OB/GYN. Dr. Londra is board-certified in OB/GYN (2013) and Reproductive Endocrinology (2017) by the American Board of Obstetrics and Gynecology (ABOG) and is a Fellow of the American College of Obstetrics and Gynecology (ACOG). Dr. Londra is an adjunct professor in the Department of Obstetrics and Gynecology at The Ohio State University. She is a member of the Columbus Medical Association, OB/GYN Society of Columbus, Ohio State Medical Association (OSMA) , and American Medical Association (AMA). In addition, she is active in the American Society for Reproductive Medicine (ASRM) and the Society for Reproductive Endocrinology (SREI). Dr. Londra's CV is available by clicking here.
Dr. Laura Londra was named a CREST Scholar for the 2015-2016 Clinical Reproductive Scientist Research Training (CREST) Scholars Program. The CREST program consists of a clinical research scholarship funded by the American Society of Reproductive Medicine (ASRM) and the National Institutes of Health (NIH). This program is supported by the Eunice Kennedy Shriver National Institute of Child Health and Human Development (NICHD), the Clinical Research Training Program at Duke University (CRTP) and ASRM. The goal of the award is to support individuals who have shown promise in clinical research activities while practicing reproductive medicine.
Ohio Reproductive Medicine is proud of Dr. Londra for receiving this award and for pursuing the kind of scientific research and training that will ultimately enhance patient care through evidence based approaches.
Personal Life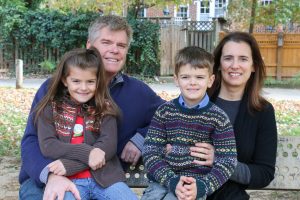 Dr. Londra is thrilled to return to the Midwest with her husband Mike and their two children William and Cecilia. They are excited to explore the world-famous Columbus Zoo, bike the Olentangy trail, and shop the North Market. Dr. Londra is fluent in English and Spanish. She is a citizen of the USA as well as Italy and Argentina. She enjoys reading, playing the piano, vegetarian cooking and touring the houses of US Presidents with her husband and children. Dr. Londra's Favorite Fertility Resources.
Recent Reviews & Recommendations
From Google.com
Dr. Londra is awesome. My wife and I were excited about starting a family and Dr. Londra welcomed us with open arms. She made the IUI process as stress free as possible and was supportive both at our appointments and if we called with any …More Dr. Londra is awesome. My wife and I were excited about starting a family and Dr. Londra welcomed us with open arms. She made the IUI process as stress free as possible and was supportive both at our appointments and if we called with any questions in between. She shared information about herself and made us feel more like a friend than a client.  We were successful on our second attempt with Dr. Londra which amounts to really great results. The office staff are all so kind and genuinely interested in the success and the well-being of the clients there. Since establishing our pregnancy- Dr. Londra even called to check in on us and share in our excitement of our baby due in May! We will definitely keep in touch with her and the practice, we will absolutely being going back to see her when we are ready for our second child. Thank you Dr. Londra – hands down- five stars. – Christina H.
From Healthgrades.com
Excellent bedside manner. Caring, compassionate, all around a wonderful doctor. Wish I could find a general practitioner as wonderful as Dr. Londra! – K in Delaware, OH | Jan 20, 2016
From Yelp.com
I was looking to have a baby for six years , until I met Dr Laura Londra, she is amazing Doctor, her professionalism and dedication was unbelievable , she recommend IVF, and right now I am pregnant of twins, my gratitude to Dr Londra is forever , I did another's treatment with other doctors before, but I don't have any good results , the special thing about Dr Londra is her personal attention every appointment, make you feel as patient confident and secure, and she always meet your expectations. – by Z.T on Dec 31st, 2015
 From Vitals.com
She is excellent at both languages English and Spanish. So you could pick either language to have your medical appointment. If you like to have research-based analysis answers…Dr. Londra is that kind of doctor as well as someone who cares about your treatment and especially how your feel. – by EJ on Aug 12th, 2015
Schedule a consultation
Dr. Londra is uniquely qualified to provide infertility treatment for international patients. Services include ivf, icsi, embryo fertilization, egg donation, sperm, and pgd.
Ohio Reproductive Medicine's office centrally located off state route 315 offers easy access to Port Columbus Airport (CMH). Port Columbus Airport has direct flights to over 29 US cities.
In addition the office is easily accessible to patients from Dublin, Westerville, Gahanna, New Albany, Delaware, Marion, Pickerington, Groveport, Grove City, Plain City, Marysville, Marion, Zanesville, Cambridge, Circleville, Athens, Lima and most of Ohio.